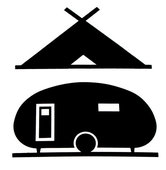 Camping Properties
Have you ever set up your camper or tent on one of those tiny campsites in a commercial campground only to have someone pull into the site next-door and spoil your privacy? Most commercial campgrounds pack their campsites so closely together that you can hear every word your neighbor is speaking, and you know they can hear you. And forget about intimate family campfires and peace and quiet; it's tough to feel like you're getting away from it all when your neighbors in the campground are closer to you than your neighbors at home!
If you have ever experienced what I describe above, you may want to consider owning your own land for use as a campsite. There are many benefits of owning your own land, such as privacy and seclusion, room for pets and children, the ability to improve your land with sheds, a permanent fire pit and a deck. If you own land you can ride your ATV, shoot your bow or firearm, and even hunt.
But keep in mind that it is very important to make sure that you are investing in guaranteed build-able land—even if you never intend to build. Banks will not finance unbuild-able land because it has no investment value. Below you will find several properties priced under $35,000 that are perfect for camping. All are located in prime recreational areas of Wisconsin and Michigan's Upper Peninsula where you will have close access to trails, lakes and rivers, hunting, fishing and boating.
All properties come with a written Guarantee of Build-ability, but you do not have to build at any time and may use the land as a campsite. All come with a certified survey, electricity, year 'round access, Warranty Deed and Title Insurance. Banks are standing by and ready to finance 90% of the purchase price.
Happy Camping!
Otto